Talent3sixty has completed over 10,000 feedback reports. These have been conducted in over 25 Companies. The assessments have been done on various competency models, which Clients have developed for themselves. To get a better understanding of aggregate results, we converted the individual client specific competency models into the Talentonic Leadership model (Fig 1) and plotted the ratings of 10,000 plus feedback seekers onto the Talentonic Leadership Model.
Fig 1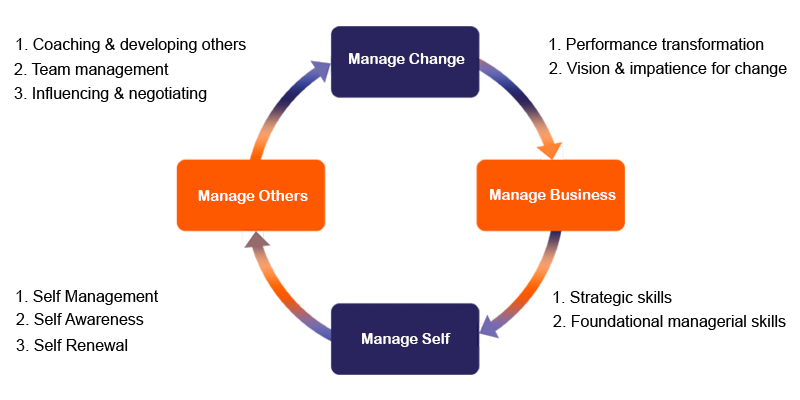 So all competencies related with bias for action, urgency, outcome orientation, customer centricity, and business strategy have been clubbed under "Managing Business". All people management competencies, communication, teamwork , collaboration, talent management have been clubbed in "Managing Others". "Managing Change" covers competencies around excellence , innovation, transformation and creating amazing results. "Self Awareness" covers learning and personal effectiveness. Values are values of individual companies.
Some interesting results emerged :
1. Organizations are largely using smart implementation models to build capability. Values, managing change & self-awareness are used by a very small percentage of organizations. So managing the business & managing people is of paramount importance and reflects high concern around managing growth. (Fig 2)
Fig 2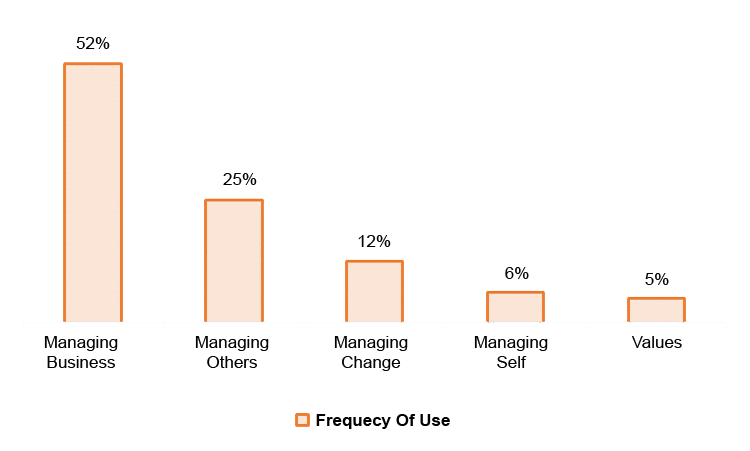 2. This is not a criticism. The hypothesis is that high growth organizations require a different capability set compared to lower growth economies /companies. Lower growth companies' concerns have shifted to long term sustainability and begin to give real importance to value driven processes and long term capability development.
3. In terms of actual assessment, (fig 3) its an interesting story. Not only is managing change less often used, we do not appear to be very competent at this either. So in an implementation driven environment, discontinuous change is difficult. Lot of talk about innovation & change management/ transformation but fewer accomplishments to count.
Managing business and Managing Others are not only frequently used but we appear to be good at this. Both from frequency and performance, these appear to be our strongest suite.
Fig 3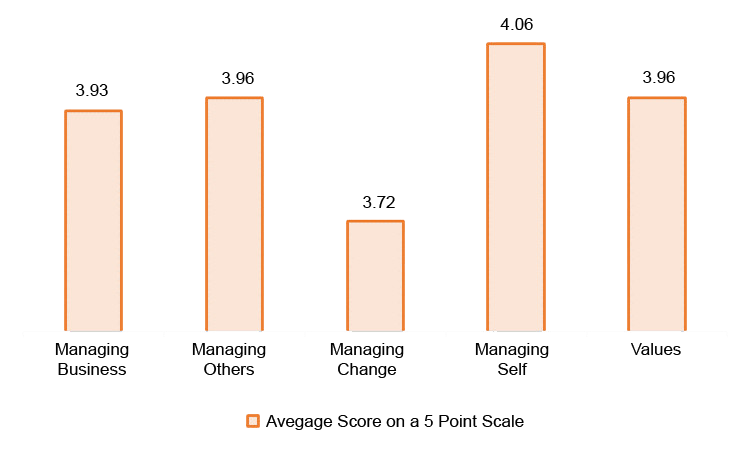 Managing self and the values, while very infrequently used, those companies that do use them are obviously good at them.
This adds to Talentonic's overall hypothesis that competencies are business and sector specific and reflect the challenges in the business model. Auto component sector may today be super heated and pushing business expansion and revenue growth rates. Focus will be on increasing velocity in the organisation and managing performance of teams. On the other hand, the Cola companies are facing a challenge of contraction of the overall market globally. Their organisation competence needs to respond to this challenge. Transformation of the business. Innovation.
Defining a competency model is only about 30% of the challenge. Being able to use it to drive business performance through organisational capability is 70% of the challenge. We have all attended workshops on VUCA & change management. However the linear, cerebral, metric driven fighting force which we have successfully created through years of double digit growth is tough to reorient into a lateral thinking , innovative change leadership.
Deepak Dhawan, CEO & Founder, Talentonic HR Solutions.